.Whether you're looking for theme parks or water parks, Dubai offers everything you could possibly want for fun. 
Among the best amusement parks in the world are those in Dubai. No wonder the city is getting a reputation as one of the top leisure destinations as these parks offer an array of attractions and great rides for kids of all ages. Furthermore, you can hire a limo through Limo Rental Dubai service and make your way to all of these places in a more comfortable way. Discover Dubai's finest destinations with us and take a look at the list below to find some of the Best Theme Parks in Dubai.
Ferrari World
The Ferrari World theme park in the United Arab Emirates is one of the top attractions in the region. It is an amusement park that is themed after the Ferrari car. Since it is located in Abu Dhabi, this theme park is very popular amongst tourists. Particularly those wanting to take a break from the hectic pace of life in Dubai. A Ferrari theme park with the largest indoor track in the world. This park offers visitors the chance to experience what it's like to race and drive on the roads of Yas Island. There are also high-speed rollercoasters, go-karting for all ages, and advanced simulators to keep any age group entertained.
Legoland
Legoland is a subsidiary of Merlin Entertainments Ltd. Since June 7, 1968, it is engaged in the business of theme parks, attraction centers, and family entertainment facilities. Each park has a Lego Miniland, an area that includes replicas of famous sites and landmarks.. It is hard to imagine that there is a better park on earth than the LEGOLAND Dubai Theme Park! In this place, you will have the opportunity to drive a car, take control of an airplane, explore the depths of the ocean and even ride a dragon's back. Moreover, you will also find here a number of well-known restaurants that offer a wide range of tasty dishes.
LEGOLAND® Water Park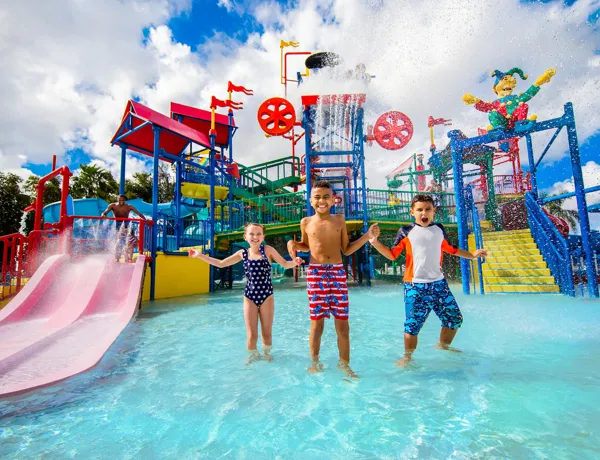 LEGOLAND Water Park is a remarkable destination where families can go on a rafting adventure. That is sized for the whole family known as Red Rush. The Splash 'N' Swirl tube will allow you to take a ride on the swirling slide with a little splash, but don't forget to stay balanced. However, with Twist 'N' Spin, you'll get to ride down the slide while strapped to a double tube and have plenty of fun. The Tidal Tube is a slide that allows you to travel 70 meters in a closed. There are also double body slides known as Twin Chasers and open-air slides known as Wave Rider.
Ski Dubai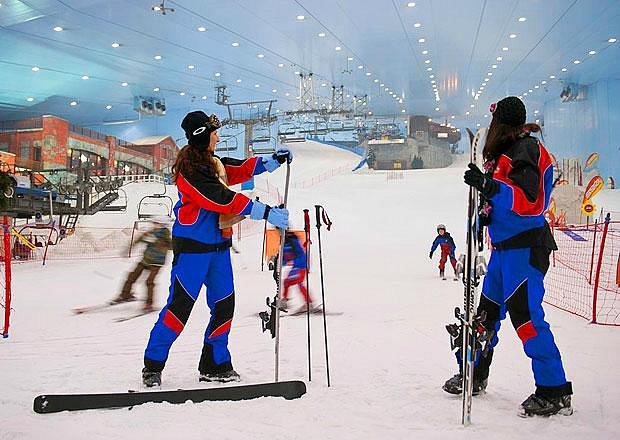 Ski Dubai features 22,500 square meters of indoor ski slopes for those who want to have some fun. It is the very first indoor ski resort in the world and there's no doubt that it will delight you and your family during your visit. There are so many activities that are available at Ski Dubai for everyone to enjoy. Each of them will make you smile and will brighten the day of anyone who walks through their doors. The resort offers opportunities to ski, go ice-skating, enjoy tobogganing, take a zip line ride, ride one of the chairlifts and take in the scenery. As part of its Snow Park, you can also participate in snowball fights with your entire family.
Atlantis Aquaventure Waterpark
Atlantis Aquaventure Waterpark in Dubai is widely recognized as the largest water park in the world. Here you can experience a world of thrilling fun and excitement that includes 105 of the world's greatest slides, attractions, and activities.
Those in search of adventure can make their way through Raging Rapids and soak up the sun. There is plenty to keep you entertained here as it will allow you to become a part of Atlantis Aquaventure. This includes exhibits such as the lost chambers aquarium, educational programs, as well as dolphins and sea lion experiences.
In Conclusion
It is impossible to have a shortage of entertainment in Dubai. This comprehensive list of the best theme parks in Dubai is sure to please anyone. You can choose from family-friendly activities or thrill-seeking adventures. We provide you with a list of the best theme parks that is sure to satisfy you. So make sure to enjoy the ride as long as you can, and make the most of your time in Dubai.